Dubrovnik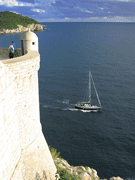 Lord Byron's pearl of the Adriatic

Dubrovnik and Elafiti shorelines are rich in history and natural variety - cliffs, caves, coves, rocks, beaches, pine forests... Lopud, Kolocep and Sipan belong to Elafiti Islands Archipelago - green islands covered by forests, without car traffic, with lots of sunshine and sandy beaches, less than an hour sailing time from Dubrovnik. Each has no more than a couple of hundreds permanent residents who live in stone houses of traditional character. Tall palm trees, parks, gardens and flowers everywhere contribute to easy going life style. Occasionally on your sailing you can be escorted by friendly dolphins or tunas that are often seen in the area. The sea is blue, clear, warm and friendly.
ACI marina Dubrovnik lies near Komolac, about 2 NM from the entrance to the port of Gruž and only 6 km from the old city nucleus. The marina has 425 berths and 140 boat places on land. All berths have water and power supply.