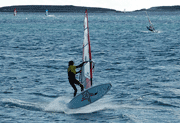 Some thirty years ago an unknown sport in Croatia and now with more than 12 clubs is one of the most popular sports not only with the tourists but also with locals.

On these locations you can wind yourself into the sea:
Premantura (Pula)
If you're a rookie, than this is the place to surf! Because of the favorable blowing direction of the wind (directly towards land), bura in Premantura is not dangerous because it will bring you directly to the shore in case of an accident. Jugo, on the other hand, causes waves as big as 2 or 3 meters because of the shallowness of the sea and makes Prematura to a well-known wave spot. During those times you can surf big waves on short boards.

Ravni and Rabac (Rabac)
Free riders – watch out! This is the place for you. Near Ravni the part of the channel between land and coast of the island of Cres is the narrowest. Pleasant warm winds reach up to 15 notches and create good conditions for windsurfers. Near Rabac a strong and constant wind is created by bura that blows from Velebit and big waves.
Preluk (Volosko near Opatija)
Preluk, a naturally protected bay near Volosko and Opatija, is another place to windsurf in Croatia. During summer months and early fall best time to go windsurfing are mornings, from the sunrise until 8 am when the wind tramontana blows from the north. It blows only during good weather conditions. Western side of the bay, near auto camping Preluk is the place to experience tramontana in its fullest.
Baška and Punat (Krk island)
A strong bura blows directly towards Baška from direction of Senj, wind speed often reaches up to 27 to 30 notches, and the waves rise up to 1,5 m thus creating heavenly conditions for windsurfing on short boards for professionals. Punat is a more quiet and calm bay that is more suitable for beginners and middle-experienced surfers because bura blows with medium strength, and the sea is smooth without any waves.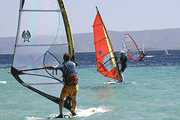 Bol (Brač island)
The cream of the crop of the windsurfing gathers here and you will find out why by just looking at the picture. Internationally most famous and most beautiful windsurfers' destination is situated in the channel between the islands of Hvar and Brač with strong winds every afternoon all year round without exception. In the morning, slow levante makes Bol ideal for beginners.