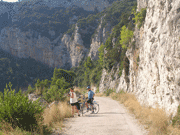 Keeping your calves trim and increasing your blood flow as you gulp in the clean Mediterranean air, there are bike rides in Croatia to suit those of all skill and health levels. Village roads, forest tracks, paths through meadows and vineyards can take you to places not to be found on the maps of the usual tourist sightseeing tours. Sociable encounters with the local population, colourful ethnography, home-cooked food and delectable wines all add spice to this gently paced adventure. In national parks and nature parks circular cycling routes are marked. If you happen to find yourself at the Plitvice lakes you will be able to enjoy some of the most beautiful cycling routes to be found anywhere in Europe.
All areas are open to cycling tours. They do not require too much effort, while at the same time bringing you into direct contact with an incredible diversity of landscapes - the mountains and valleys of sunny Istria, trails through the forests of Gorski kotar, the green and undulating hills of Hrvatsko zagorje dotted with vineyards, the fertile plains of Slavonia and Turopolje. Villages of timber - and stone-built houses, vineyard cottages, historical burghs, castles and manor houses, churches and chapels - all these provide picturesque resting points and of sites cultural interest.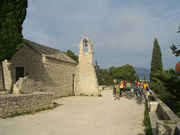 The combination of a cruise with bicycle tours of the area is growing in popularity. Having embarked on a cycling adventure across the islands your itinerary must include the national parks of Mljet and the Brijuni Archipelago, or indeed the larger islands - Krk, Cres, Rab, Pag, Ugljan, Pasman, Dugi otok, Brac, Hvar, Vis and Korcula.
Mountain biking
There are many wonderful cycling circuits in Croatia. The level of difficulty of these varies considerably, some being designed for the recreational cyclist and some for the sports cyclist. For the latter you'll need to be in top form. For example, the great bicycle tour of Makarska leads up and over the Biokovo Mountain, which is over a mile high! Whenever or wherever you arrive at a mountain or a hill in Croatia, you are assured of excellent terrains for mountain biking. For those seeking more excitement of downhill riding, there is Ucka, the mountains of Gorski kotar, Zumberak; the route through Vinodol to Velika Kapela or from Lika to Velebit.
Cycling map are available for most of the areas, alternatively you can join a cycling club on one of their semi regular riding adventures.